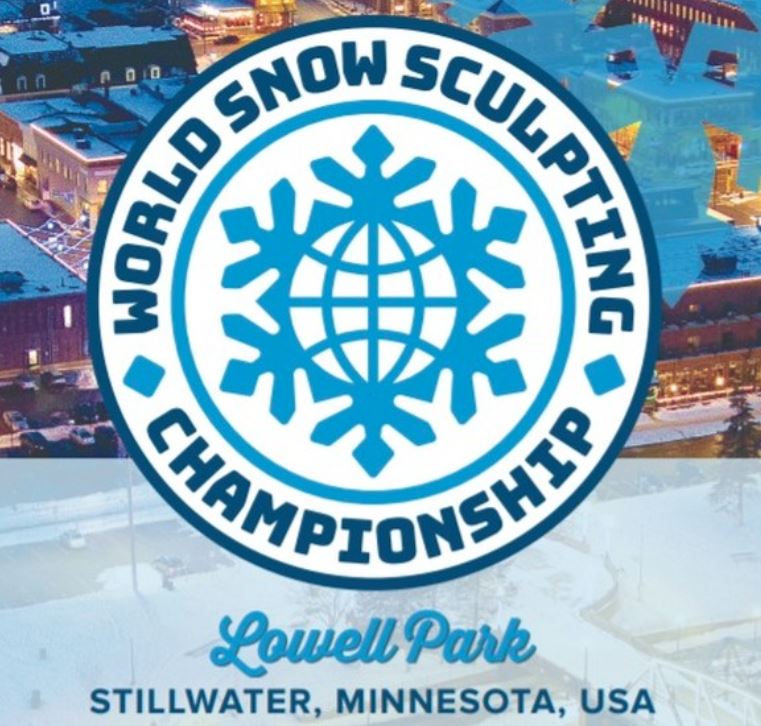 World Snow Sculpting Championship
The Greater Stillwater Chamber of Commerce in partnership with the City of Stillwater, is honored to host the Inaugural World Snow Sculpting Championship competition sanctioned by the Association International de Sculpture sur Neige et Glace based in Finland. Teams from around the world will travel to Stillwater, Minnesota to create amazing snow sculptures while competing for prize money and the title of the World Champion. This will be a judged event and will include social events, activities, ceremonies, the people's choice award, and will be fun for the whole family.
Be sure to get your Event Buttons, they are good for various discounts at local businesses in the Stillwater area to anyone wearing the button, during the week of the World Snow Sculpting Championship event. Buttons are valid January 18th-23rd, 2022 and are $5 each or 5 for $20. Buttons can be purchased at the Chamber Office or at participating location through out Stillwater.
Events & Activities
January 5-17, 2022
Snow Making – Watch snow being made and watch how the blocks are built

Tuesday, January 18, 2022
Carving Exhibition – An artist will be out in Lowell Park demonstrating a carving and visiting with visitors

Wednesday, January 19, 2022
Carving Begins: 9 am, Lowell Park
Opening Ceremony at the JX Event Venue, 5-8 pm get your tickets here
Saturday, January 22, 2022
Carving Concludes at 2 pm Sharp!

Closing Ceremony and Awards at 6:00 pm – Water Street Inn
"World's Coolest Block Party" 6:00pm-9:00pm – Water Street Inn-Enjoy a live DJ outside at the Gazebo, live music from Monique Smaz inside Water Street Inn and Fire Performers at the top of every hour.

Sunday, January 23, 2022
Minnesnowta Nice Day – Snow Slide, Bingo, Live Music, Wild Rice Cookoff, Beer Tent, Polka Dance, Character Appearances, Miss Minnesota, and Snowman Building Event.
Please visit the Stillwater Chamber of Commerce Website for all updates. https://greaterstillwaterchamber.com/