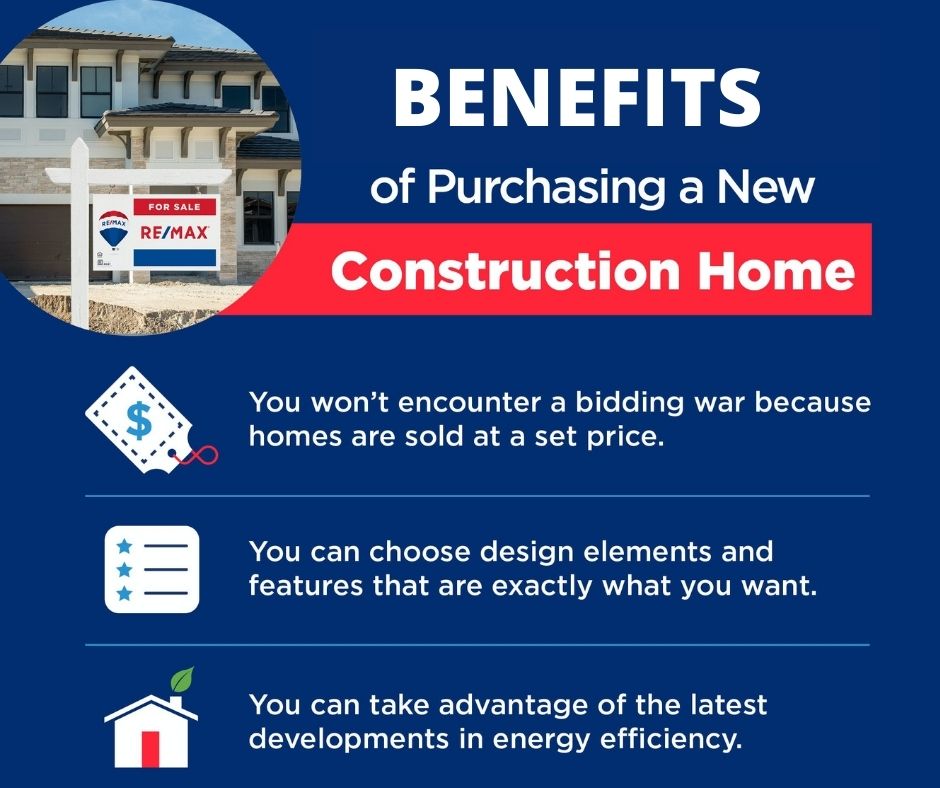 BENEFITS OF BUYING A NEW CONSTRUCTION HOME
From lower upfront maintenance costs to design flexibility, new construction can provide opportunities for homebuyers navigating a low inventory market.
While some homebuyers are holding out for the right house to become available – one with historic charm, outdoor space, square footage or whatever they're seeking – others are skipping the search (and bidding wars) and going straight to new construction.
1. You're less likely to encounter a bidding war (or an appraisal gap) when purchasing a new build
One of the biggest advantages of new construction is that homes are sold on a first come, first served basis. That means no bidding wars – and no need to waive an inspection, appraisal, or other contingencies to make an offer stand out.
2. New constructions homes may require less maintenance (and offer more energy efficiency)
An important consideration in any home purchase is how much maintenance the buyer is interested in taking on. DIY-enthusiasts may enjoy making an older home their own, while some buyers would prefer something more turnkey. Although all homes will require maintenance at some point, new construction usually requires less upfront work when it comes to upkeep. A new construction home may also come with an annual home warranty.
New construction can also offer the advantage of new technology and energy efficiency. Some enhancements can be added to older homes, but it may take more time for the homeowner to recoup the cost of the updates.
3. Your new home will check all the boxes
Many builders offer a base model with several options for customizations and enhancements. Sometimes buyers may be able to change a layout of a room by moving a wall or adding windows for more daylight.
Although most builders don't negotiate the price of design elements, an agent can advise which features are worth paying for upfront, and which ones can be upgraded (potentially for a lower price) at a later date. Builders will rarely allow buyers to bring in their own contractors during the construction process, but it still may be less expensive to update features – such as flooring – after closing.
4. You can still leverage the guidance and expertise of an agent
A new build purchase has many of the same milestones as an existing home purchase – such as the appraisal, inspection and, of course, closing date. The most important thing to keep in mind when purchasing new construction? Patience. Although some builders have completed properties ready for move-in, buyers looking for a custom new build home should plan on at least 6 to 8 months for construction.
But while a buyer is waiting, their home could be already growing in value. Once a new development sells out one section of homes, they often sell the next group for a higher price.
If you are interested in a New Construction Home contact us today!